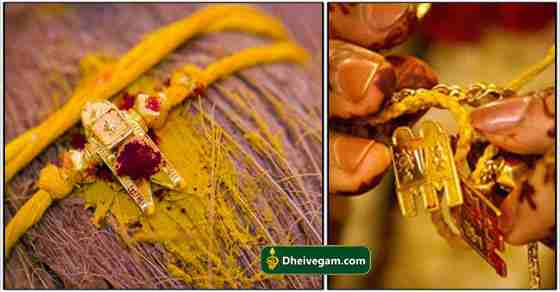 Tamil Muhurtham Dates January 2018
| Muhurtham Dates | Day | Type |
| --- | --- | --- |
| 19 January 2018 | Friday | Valarpirai Muhurtham |
| 22 January 2018 | Monday | Valarpirai Muhurtham |
| 28 January 2018 | Sunday | Valarpirai Muhurtham |
- Advertisement -
Tamil Muhurtham Dates February 2018
| Muhurtha Naal | Day | Type |
| --- | --- | --- |
| 04 February 2018 | Sunday | Theipirai Muhurtham |
| 05 February 2018 | Monday | Theipirai Muhurtham |
| 07 February 2018 | Wednesday | Theipirai Muhurtham |
| 11 February 2018 | Sunday | Theipirai Muhurtham |
| 19 February 2018 | Monday | Valarpirai Muhurtham |
| 26 February 2018 | Monday | Valarpirai Muhurtham |
Tamil Muhurtham Dates March 2018
| Muhurtha Naal | Day | Type |
| --- | --- | --- |
| 04 March 2018 | Sunday | Theipirai Muhurtham |
| 05 March 2018 | Monday | Theipirai Muhurtham |
| 08 March 2018 | Thursday | Theipirai Muhurtham |
| 15 March 2018 | Thursday | Theipirai Muhurtham |
| 19 March 2018 | Monday | Valarpirai Muhurtham |
| 26 March 2018 | Monday | Valarpirai Muhurtham |
| 30 March 2018 | Friday | Valarpirai Muhurtham |
Tamil Muhurtham Dates April 2018
| Muhurtha Naal | Day | Type |
| --- | --- | --- |
| 20 April 2018 | Friday | Valarpirai Muhurtham |
| 22 April 2018 | Sunday | Valarpirai Muhurtham |
| 25 April 2018 | Wednesday | Valarpirai Muhurtham |
| 27 April 2018 | Friday | Valarpirai Muhurtham |
Tamil Muhurtham Dates May 2018
| Muhurtha Naal | Day | Type |
| --- | --- | --- |
| 02 May 2018 | Wednesday | Theipirai Muhurtham |
| 04 May 2018 | Friday | Theipirai Muhurtham |
| 06 May 2018 | Sunday | Theipirai Muhurtham |
| 07 May 2018 | Monday | Theipirai Muhurtham |
| 13 May 2018 | Sunday | Theipirai Muhurtham |
| 20 May 2018 | Sunday | Valarpirai Muhurtham |
| 25 May 2018 | Friday | Valarpirai Muhurtham |
| 27 May 2018 | Sunday | Valarpirai Muhurtham |
Tamil Muhurtham Dates June 2018
| Muhurtha Naal | Day | Type |
| --- | --- | --- |
| 03 June 2018 | Sunday | Theipirai Muhurtham |
| 04 June 2018 | Monday | Theipirai Muhurtham |
| 17 June 2018 | Sunday | Valarpirai Muhurtham |
Tamil Muhurtham Dates July 2018
| Muhurtha Naal | Day | Type |
| --- | --- | --- |
| 01 July 2018 | Sunday | Theipirai Muhurtham |
| 02 July 2018 | Monday | Theipirai Muhurtham |
| 05 July 2018 | Thursday | Theipirai Muhurtham |
| 11 July 2018 | Wednesday | Theipirai Muhurtham |
Tamil Muhurtham Dates August 2018
| Muhurtha Naal | Day | Type |
| --- | --- | --- |
| 23 August 2018 | Thursday | Valarpirai Muhurtham |
| 29 August 2018 | Wednesday | Theipirai Muhurtham |
| 30 August 2018 | Thursday | Theipirai Muhurtham |
Tamil Muhurtham Dates September 2018
| Muhurtha Naal | Day | Type |
| --- | --- | --- |
| 06 September 2018 | Thursday | Theipirai Muhurtham |
| 12 September 2018 | Wednesday | Valarpirai Muhurtham |
Tamil Muhurtham Dates October 2018
| Muhurtha Naal | Day | Type |
| --- | --- | --- |
| 19 October 2018 | Friday | Valarpirai Muhurtham |
| 28 October 2018 | Sunday | Theipirai Muhurtham |
| 31 October 2018 | Wednesday | Theipirai Muhurtham |
- Advertisement -
Tamil Muhurtham Dates November 2018
| Muhurtha Naal | Day | Type |
| --- | --- | --- |
| 04 November 2018 | Sunday | Theipirai Muhurtham |
| 05 November 2018 | Monday | Theipirai Muhurtham |
| 09 November 2018 | Friday | Valarpirai Muhurtham |
| 11 November 2018 | Sunday | Valarpirai Muhurtham |
| 14 November 2018 | Wednesday | Valarpirai Muhurtham |
| 25 November 2018 | Sunday | Theipirai Muhurtham |
| 28 November 2018 | Wednesday | Theipirai Muhurtham |
Tamil Muhurtham Dates December 2018
| Muhurtha Naal | Day | Type |
| --- | --- | --- |
| 02 December 2018 | Sunday | Theipirai Muhurtham |
| 12 December 2018 | Sunday | Valarpirai Muhurtham |
| 13 December 2018 | Thursday | Valarpirai Muhurtham |
| 14 December 2018 | Friday | Valarpirai Muhurtham |
Tamil Muhurtham Dates 2019
Marriage matching calculator
Tamil Muhurtham dates 2018
Marriage is a beautiful feal and it puts an invisible knot between two hearts. As per Tamil culture, marriage date or Muhurtham date is very import. Tamil Muhurtham dates will be basically fixed by referring Panchangam. After that people went to astrologer and astrologer will refer the horoscope and of a couple and he will confirm the date. This is the basic procedure of fixing Tamil Muhurtham dates. Here we have given the Muhurtham dates for 2018. It is also called as Muhurtha Naal 2018. In Hindu religion, almost all the religious ceremonies are based on the quality of Muhurta. Most of the good ceremonies will be done on Valarpirai Muhurta.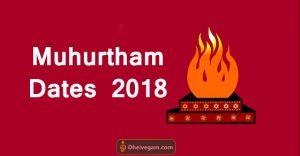 Tamil Wedding dates 2018
As we said earlier wedding dates will be fixed by consulting an astrologer. Some people in Tamil will get search for Valarpirai Muhurtham. Valarpirai Muhurtham is nothing but the wedding dates will fall on or after new moon day and on or before full moon day. As per Tamil people's belief, Valarpirai Muhurtham will create a happy marriage life between the couple. Here we have specified that Tamil Wedding dates 2018 clearly and there are totally 24 Valarpirai Muhurtham dates in 2018.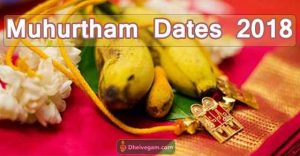 Suba Muhurtham 2018
Suba Muhurtham is nothing but the best day for marriage. Totally there are 54 Suba Muhurtham dates in 2018 and in that 30 were Theipirai Muhurtham dates. Basically, Theipirai Muhurtham dates are not considered as 100% perfect Muhurtham date. So Valarpirai Muhurtham dates only mostly considered as best Suba Muhurtham dates and here we have given Suba Muhurtham dates for 2018 and it is also called as Tamil Marriage dates 2018.